NEW Single & Double Basket Troffers with ColorQuick® and selectable Wattage Technology bring an economy of control to your inventory and stocking value by offering versatility in an application through a single SKU.
In just one SKU, you have 3 separate CCT selections and 3 wattage selections, making a single fixture able to accommodate several different installation spaces, including retail, education, office space, restaurants, and more.
Durable, quality made fixtures, both the single basket and the double basket troffer are available in the popular 2'x2' and 2'x4' sizing.  Both come in a white finish. The single and double basket offer a similar lumen output, making the design an aesthetic feature rather than a light feature.
Illuminating the troffers, the superior, long-lasting, SATCO LED light source requires no maintenance for up to 50,000 hours, and the selectable color temperatures are 3500K/4000K/5000K; 80 CRI. Fixtures offer 0-10V dimming and suitable for damp locations.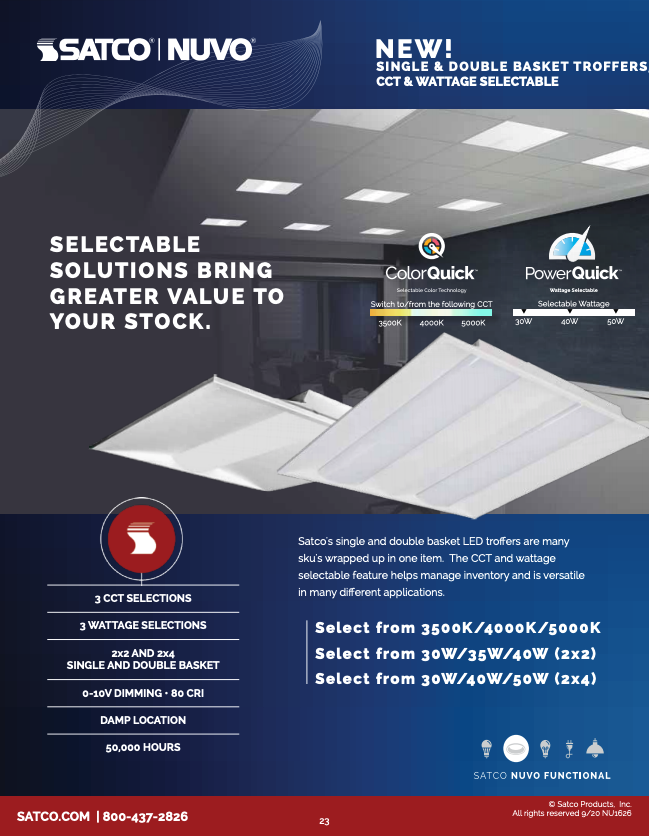 Simply select the color temperature that is correct for your application, adjustable CCT LEDs are able to change between different temperatures of white light. Making fixture selection easy and SKU count lowered, just one fixture gives you multiple white tones, ranging from warm to daylight, providing the right light for the space.