Design and style is at the forefront of appeal when it comes to decorative lighting. Today's clients have developed an increased desire to have their homes reflect their personal style.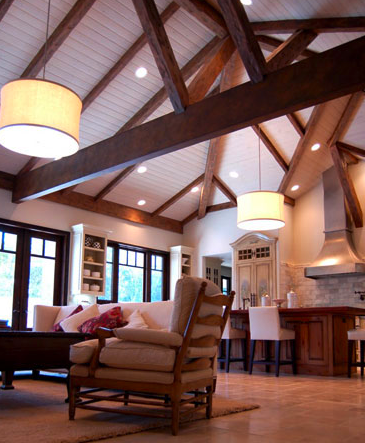 The spaces include the traditional locations like dining and bedrooms, entry ways and non-traditional as well like yachts. Even the previously sparse or design void workspaces like laundry rooms are being impacted by this fun style.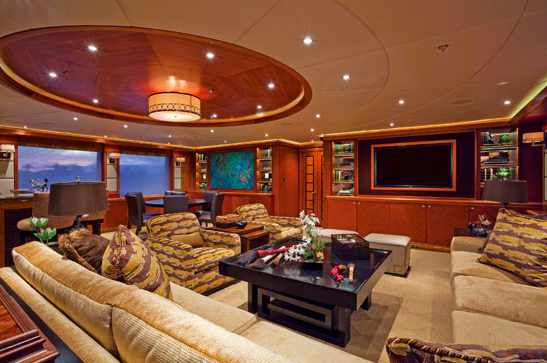 Stonegate
leads the industry in creativity and style, offering a vast line of designer lighting from traditional to contemporary, in various fabrics and finishes. As
custom lighting design experts
for contract hospitality projects, such as hotels, restaurants, retail stores Stonegate has the experience to produce a high-quality item on schedule and on budget.
Clients Want What They Want:
The client's demands for bespoke lighting has created a niche that has been filled by STONEGATE's ability to produce custom lighting fixtures that are Made in the USA. Many lighting manufacturers have a program called "custom," but often it is only a set of limited choices to select from.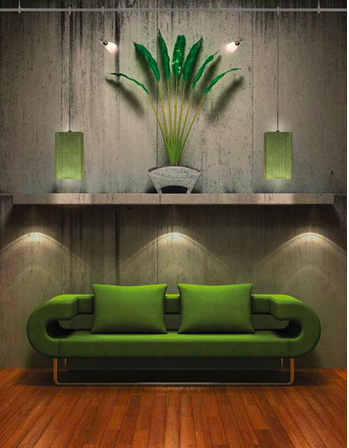 There is a possibility that
PANTONES 2017
color of the year
GREENERY
was selected to be featured in the space. The design intent calls for the coordinating colors in the room to compliment the material on the sofa. A quick trip to the fabric store, and you have the best color to have a fixture made from. Many of the shaded lights available from STONEGATE can be made using material provided by you the customer, allowing the design to flow and be personal. The type of material selected will determine if it is suitable to be used on a lighting fixture.
Design Like A Pro:
Having an interior designer as part of your team may not be in the budget, yet you can still have a skilled professional to work with by taking advantage of the work already done by well-known experts like VERN YIP or the team of ZIA-PRIVEN.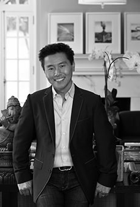 VERN YIP
has been expressing his creative talents for quite some time on some very popular home interior shows such as TLC's Trading Spaces and
HGTV
. The clean lines the highlight Vern's pieces provide the correct style punctuation to a home's heart. In the image Vern's kitchen, you can see how the
CAPRI
pendant plays off the horizontal stripe on the walls.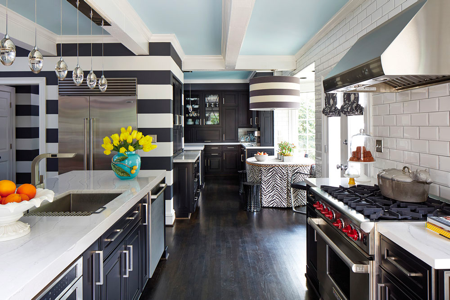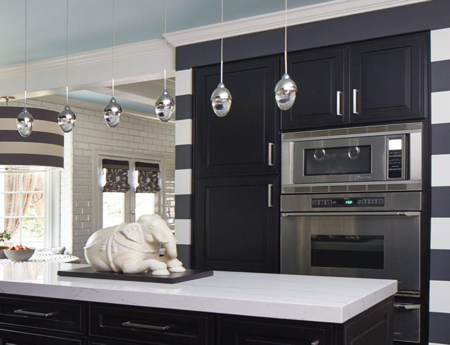 THE ZIA-PRIVEN TEAM:
Zia-Priven is a husband and wife team comprised of Marcia Zia & Paul Priven. This dynamic design duo made their name in Hollywood and have worked with many world-renowned designers on high profile projects like the Fontainebleau in Miami and the Wynn Macau. With a classically modern aesthetic, the pieces designed by this couple have a panache that is not available in everyday lighting.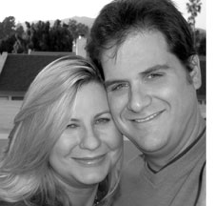 "AT AFX, WE'RE CHANGING THE WAY YOU THINK ABOUT LIGHTING."
AFX has won the "Lighting for Tomorrow" design award many times demonstrating they are at the leading edge of design, style and technology for indoor, outdoor and custom lighting.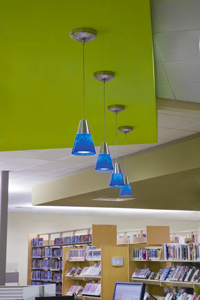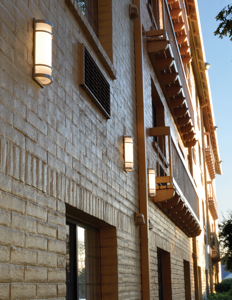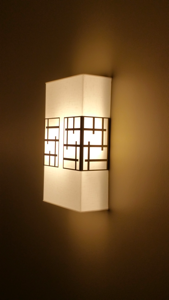 AFX
is an industry leader in LED, and other light sources. Focused on their craft since 1938, AFX focuses every day commitment to deliver superior quality, uniquely designed and technologically-advanced lighting products on time.   For additional information about Stonegate or AFX please contact your
EZS representative.