Hello Friends,
There are important concerns that face the members of the lighting industry and many are associated with the legislation that happens in Washington DC.
I had the privilege of accompanying the American Lighting Association to Washington DC in May as a member of the Board of Governors and the Chairperson of the ALA Political Action Committee. I have difficulty expressing the honor and joy I felt doing this, helping our industry.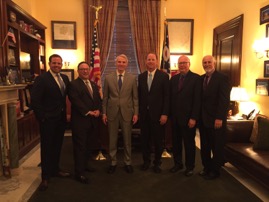 The collective mission of our group was to lobby key Congressman and Senators explaining the impactful issues that the residential lighting industry faces. We have met with some of the Senators and Congressmen before, and for a few of us, it was for the first time.
We were in three groups, and I spoke directly with Senators Rob Portman (R-OH), Senator John Cornyn (R-TX), Senator Jim Risch (R-ID) and Congressman Susan Brooks (R-IN), Congressman Diana DeGette (D-CO), Congressman Pete Sessions (R-TX) and Vern Buchanan (R-FL) and/or their staffs.
The key issues we discussed were:
The Fair-Trade Act, which is about State Sales Tax on all internet purchases.

The ALA is firmly for this legislation.

It will help the small hometown retailer that are required to charge sales tax.
The other critical issue is the

BAT, Border Adjustment Tax

that the President has proposed.

The ALA is against this initiative as it would raise the cost of imported goods by 20+%.

There are many economic models regarding this proposal.
We had a meeting with the Chief Tax Council of the House Ways and Means Committee. This is the committee that is pushing for the Border Adjustment Tax (BAT). It was fascinating to hear their perspective on this controversial matter.
Depending on how the conversations flowed we also raised topics like health care, the two major parties working together and so much more. These politicians could not be more gracious with their time and attention.
Our group also met with a variety of influential people from important departments in government. One of the DC influencers present was Energy Star, and they gave a presentation about the evolution of their program.
We also were given a presentation by the Appliance Standards Awareness Board, and they explained what they do. I want to thank the American Lighting Association, Eric Jacobson (President/SEO), Larry Lauck Executive Vice President), Terry McGowan, (Director of Engineering for ALA) and Michael Weems (Vice President) for the excellent coordination of the meetings and events. .
I also want to thank Lutron Electronics for hosting us at the Lutron Experience Center for lunch.
Lastly, my counterparts from the lighting industry who spent their time and money to come to Washington DC to make a difference:
Clark Linstone (CFO Lamps Plus), Tony Bacon (Director of Legal Services Hunter-Casablanca Fan), Nathan Frampton (President Fanamation and ALA BOG), Martha Graham (Owner of Martha Graham and Associates), Brandon Levin (President Justice Design and ALA BOG), Larry W King (Co-Owner of Capital Lighting, Chairperson of ALA BOG), David Brenneman (RSM Justice Design Group), Dave Gatto (Director of QC/Compliance for Westinghouse), David Nestor (president of Urban Lights), Anthony Serres (Manager Technical Policy, Phillips Lighting), Shaun Taylor (Commercial Experience Center Leader, Lutron Electronics) , David Turner (Senior Channel Marketing Manager, Hunter-Casablanca Fan) and Eric Wiedemer (VP and General Council Hinkley Lighting).
I want to applaud the commitment of this outstanding group of people and those like them, seeking to improve our industry for everyone that is in it.
With respect,
Michael Estrin CLMR